The introduction of computer-based — aka digital — printing has reduced thes stress level in marketing departments everywhere. Digital printing has made the entire printing process so much easier and more efficient. With digital printing, marketing departments can target their print promotions to the right audience at exactly the right time, and meeting print deadlines on time, every time is easier, too. And that's all good news for your business' overall bottom line, too.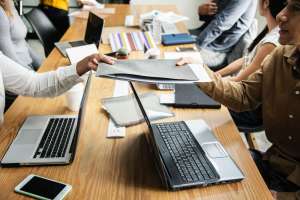 If you don't know about the benefits of digital printing, here are four ways it can boost your business — and your bottom line:
Speed:

Digital printing is so fast! You can contact your printer this morning and they can start your printing project by afternoon. Print projects are no longer a major undertaking that take days or weeks. And with such speed, you can get your new promotion out there to customers before your competition does!

On-demand timeliness:

Meeting print deadlines

is still critical, but digital printing almost makes them a non-factor. With digital printing, you can get your promotional product out when you want to, and you can even update or change it if you need to. Your print promotion will never become obsolete when you can so easily and quickly update it.

Flexibility:

Digital printing is flexible, and that means you can personalize your marketing materials more easily. With digital personalization, you can make a small or large quick run targeted at those customers who will be most likely to respond. Digital printing is cost-effective with either large or small print runs.

Less waste:

With digital printing, you're able to just print what you need when you need it. So that means you no longer have to print an extra thousand brochures when you don't need them because it's more cost-effective to do so. You can carry out small, targeted, on-demand print runs, saving time and money. This means less paper waste, and less need to store boxes of extra printed materials that you just don't need. Also, the proofs for digital prints are done via PDF versions, so there are no wasteful hard-copy proofs to review.
The digital printing industry is set to grow to $300 billion by 2014, but when you consider all the benefits, that growth is not surprising. Marketing departments everywhere that used to worry about meeting print budgets and meeting print deadlines need not stress with digital printing. It has made both a lot easier, less expensive and more efficient.
That's a big change from the days of mass offset printing, and a welcome one! For all your digital printing needs, you can trust Print Time. We specialize in digital printing and can help with all your printing needs. Visit us at www.printtime.com.