Hospitals and doctors around the country are working to transition to electronic health records (EHRs). But even after they go digital, they'll need to ensure and maintain a high level of productivity and excellent patient care.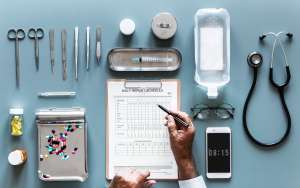 Color printing can help with both goals, as well as help hospitals streamline their processes while making the patient experience more personal. The printing needs for KC hospitals or hospitals anywhere can be greatly enhanced by color printing. Here are a few ways hospitals can use color printing to their advantage:
Organizing Workflow:

A hospital's workflow is about more than just efficiency, it can be a matter of life and death. Every patient must go through an admission and discharge process when he or she needs healthcare. So patient charts must be up to date and accurate to prevent delays and misdiagnoses. Color printing can be used to color-code charts and paperwork so they are clearer and easier to read. Color coding also can make processes easier for the patient and easier for hospital staff to quickly understand critical data about each patient.

Highlighting Critical Data:

Colored labels can help hospital clinicians, administrators and technicians stay organized. Colored labels can be used to highlight key patient information while they're under hospital care. For example, if a patient has an allergy to a medication, a staff member can stick a red label on all patient-related documents or charts to make everyone aware. This also saves time spent searching for information that might otherwise be buried in documents.

Improve Interaction with Patients:

Patients get tired of telling every nurse and doctor the same information over and over. But they also don't want doctors to look at charts instead of talking directly to them. Hospitals can use color printing to strike a happy medium: color-coded wristbands. This can make a patient's name standout and clearly show his or her special risks, allergies or other critical information.

Simplifying Medication Labels:

Another way to help improve the patient experience is by color-coding medication labels. The Food and Drug Administration says it's common for errors to occur in medication and IV labeling, and the results can be deadly. By using color-coded medication labels, important information such as "keep refrigerated" can be marked clearly so there's no guessing.
The printing needs for KC hospitals and hospitals everywhere, should include color. Using color to code labels, documents, wristbands, charts and patient reports can help make content clearer and easier to read when time may be of the essence. Color printing can help hospital staff be more organized and productive while improving the quality of care and reducing costs. Using color printing to enhance workflow and the patient experience can increase efficiency and improve care across the healthcare industry.
Print Time delivers on-time commercial printing for many clients in the healthcare industry. We meet the printing needs for KC hospitals, including: printed bills, direct mail promotions announcing free classes or events for patients and the community, and many hospital groups produce branded magazines that are mailed to the community. Visit www.printtime.com for more information about color printing options for your healthcare setting.